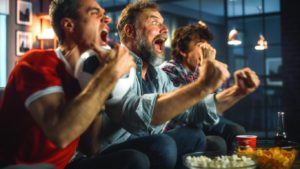 If you are a sports fan, it is an exciting time to be living in the KC metro. Over the past decade we have experienced more than our fair share of national championship victories from our local teams including, the Royals, Sporting KC, the Jayhawks and of course the Kansas City Chiefs who brought a Vince Lombardi trophy back to KC just a week ago.
With the NFL draft coming to Union Station in April, Arrowhead Stadium hosting World Cup matches in 2026, and multiple new stadiums potentially being built downtown, it's hard to not get swept up in the excitement and civic pride of it all.
As I watched the hundreds of thousands gather for the parade this past week, I thought to myself all of these victories have to be producing an enormous economic windfall for the metro. But do they really? I decided to do a little digging to see if cities and their residents really benefit financially as much as we think from professional sports.
According to sports economists Dennis Coates and Brad R. Humphreys who studied the economic impact of hosting playoff games and championships, these events are not associated with any real economic benefit to a city's residents.
For example, while the economic numbers of last week's Super Bowl victory are not yet known, they say the average increase in per capita income for the residents of a Super Bowl winning team is only approximately $140. They argue the reason for this low number of real economic growth is money spent on these activities is generally money that residents would have spent locally regardless. All that changes is perhaps the type of activity that money is spent on.
As the Royals begin their campaign for public subsidization of a new downtown ballpark you will be reminded of the millions of dollars in revenue that was generated during their World Series runs in 2014 and 2015. According to VisitKC each World Series home game resulted in roughly 5 million in added revenue to the city. That may seem like a lot, but in reality, the two games Kaufman Stadium hosted in their 2015 championship victory only equated to approximately .0099% of the city's annual GDP.
What about something like the World Cup that brings people from around the world to the host city. Surely events like that carry with them an economic windfall to their host cities. According to one study by Boston Consulting Group, Kansas City could expect to see as much as 620 million in new economic activity springing from the soccer matches held here.
However, some economists argue the costs associated with hosting this event usually outweigh any potential benefit.  For example, when Japan and South Korea hosted  the World Cup these countries lost between $5-9 billion despite estimates that the tournament would result in $4 billion in gains. Four years later Germany experienced similar disappointment when, despite predictions of 60,000 new jobs coming from hosting the event, the actual job creation numbers were net zero. Most recently in Qatar it is estimated that 17 billion was brought to the nation through the tournament. However, it is believed that Qatar spent in excess of 200 billion on the World Cup and the preparations for it.
With Mayor Quinten Lucas already promising $50 million in upgrades to Arrowhead Stadium, and the massive transportation and security cost increases that will come with hosting such a large event, it would not surprise me if the economic benefits we experience are not as pronounced as we are being promised.
Does all this mean I am not celebrating these recent victories? Absolutely not! As a proud life-long resident of the metro I love the fact that our city is getting so much national and international attention. As more and more people flee the coasts, I hope many find their way here and we continue this current trajectory of growth.
With that said, professional sports is a business. A very lucrative one at that. For that reason, when we are asked as taxpayers to subsidize their industry with promises of economic growth, I simply think we must be skeptical of those with their hands out. What is beneficial to them may not be quite as beneficial for us as we are led to believe.
(Past performance is no guarantee of future results. The advice is general in nature and not intended for specific situations)