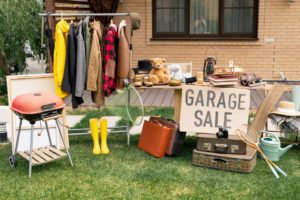 As I have confessed before in other columns, I have a bad habit of buying things, not because I need them, but because I have found such a good deal. Sadly, the philosophy that says "I'd be a fool not to buy it at this price" can often lead to a full house and an empty wallet.
Last weekend, my wife and I decided to do some massive spring cleaning to address this growing amount of clutter in our home. It's almost embarrassing to admit, but while going through storage looking for things we don't use, I actually found quite I few things I didn't even remember buying that I plan to start using. For everything else, we decided to identify the things that held value and turn this clean-up project into a money-making endeavor.
I bet I'm not the only person out there feeling like their stuff is taking over their home. With inflation near all-time highs, right now might be the perfect time to unload some of those things you don't need for cash that you do. Whether your items are one-of-a-kind, or run-of-the-mill, it has never been easier to connect with the right buyer for whatever you are selling. Today, I thought I would share just a few ideas for how you can turn your trash into cash.
First, and probably most obvious, is to use social media to sell your stuff to people right here in the area. Facebook Marketplace is hands down the easiest way to connect with local buyers. Especially, if what you are selling is large or hard to ship. There are a few things I have learned that can help you be more successful selling there. First, join as many local selling groups on Facebook as you can. It only takes a few minutes and greatly increases the number of people who will see your item online. Second, provide quality pictures and descriptions. Most people want to know exactly what they are buying before they meet up with you. If they're not 100% sure about the item, they will simply not contact you to begin with. Third, respond quickly to inquiries. Once someone decides to buy something, they expect immediate gratification. If you are slow to respond when they are at the point of purchase, they will often move on to someone or something else.
Facebook is by no means the only option for selling things. In fact, it's not even the best if what you are selling is unique or requires a specific type of buyer. For these items, it is often best to access a more nationwide set of potential customers. For a small seller's fee, websites like Ebay, Etsy and even Amazon can be great partners to sell through.
If clothing is what you need to get rid of, selling directly to another person can be difficult. That's why selling used clothing to resellers often works best. Locally, stores like Just Between Friends, or Clothes Mentor are great options for selling your gently used clothes. They will evaluate the items, and give you a cash offer right then and there.  If you do want to try selling the clothes directly to customers online, Poshmark.com is a clothing specific site that offers you the ability to sell through their digital marketplace.
With all of this said, if you have too much stuff, and too little time to mess around with selling each item individually, perhaps the best way to declutter is the old-fashioned garage sale. We plan to have one ourselves once the weather warms up a little more. With the power of social media, you can easily make the whole community aware of the sale, and what will be featured at it. This method of marketing can be far more effective than just putting the cardboard sign on the street corner like you used to. However, a word of warning about garage sale buyers like me. We expect things to be cheap. For that reason, garage sales are great for moving a lot of stuff out. Not so great for bringing a lot of cash in.
One final thing I will suggest when it comes to getting rid of your stuff. While it's always nice to make money, consider donating your things to a local non-profit such as Habitat For Humanity, Hillcrest, or Salvation Army instead. All of these organizations run local thrift stores in the area. By going this route, you can potentially receive a significant tax deduction, while at the same time have an even bigger impact on your community.