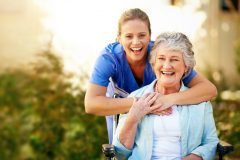 During the last few weeks I've been celebrating my mother's life and choosing to remember all the good times before the Alzheimer's diagnosis took many things from her. My mom spent the last five years of her life living in care facilities. There were many difficult days for my mom and our family during these years.
The one constant was always wondering if she would outlast the money or vice versa. Between the spring of 2013 and her passing on February 18, 2018, the monthly cost to provide the best care for her grew by approximately 90%.
Momma spent four years in assisted living in the same facility, receiving the same level of care, in the same apartment. During these four years the cost to care for her grew by approximately 40%.
In May of 2017, we had to move momma to a different facility with a memory care wing where we were fortunate enough to find a shared room in need of a female roommate. Being in a shared room kept the room and board at a lower price point; however, as her level of care increased, so did the additional monthly fee. She entered the memory care wing at a lower care level but quickly escalated to a higher level of need, thus increasing the monthly expense.
Since daddy had served in the Korean War we were blessed to receive a monthly check from the Veterans Administration* to assist with her monthly expenses. This check was in the amount of $1,100 and we received them for approximately four years.
My parents lived comfortably, but frugally. They had nice homes and cars, but they were savers and they saved well. Upon momma's move into assisted living we sold her house, her car, and held an estate sale which provided an additional $100,000 in cash to add to her savings and investments to take care of her.
Even with all of these steps taken and her assets, we calculated in June of 2017 that we would have enough money to take care of her in a non-Medicaid facility for approximately 24 more months, if all expenses remained stagnate. We learned from momma's neurologist that the average life expectancy for an Alzheimer's patient is 8-10 years from diagnosis. Momma's diagnosis came in June of 2013.
We were 4.5 years, at this time, from diagnosis, but considering the symptoms she exhibited prior to diagnosis, we were concerned that she could be as much as six years into the disease. We hoped and prayed momma would pass before her money ran out. Thank God, she did.
Why am I writing this article? The last five years were hard on momma, but they were hard on her children, too. We wanted momma well cared for, and good care comes at a cost. Because my mother is fourth generation female exhibiting dementia characteristics, I am fearful. My great, great grandmother died in an insane asylum around the turn of the 20th century. While Alzheimer's hadn't been "discovered" yet, who's to say that when someone was labeled "crazy" and admitted to such a facility, that it wasn't Alzheimer's? Maybe they just didn't have a name for it yet. My mother's family reported that my great grandmother and grandmother exhibited similar behaviors.
I wonder if I will be next. If I am next, there is nothing I can do to stop it (short of a miracle drug discovery). However, I have taken steps to ensure that my children will not have to be as concerned about the cost of my care. I took out a Long Term Care Insurance (LTCi) policy several years ago to help safeguard against my children worrying about how to afford good care for me. Yes, LTCi comes at a price, just like automobile and health insurance, but it does provide a great sense of peace and comfort for me, especially when I consider what good care costs.
If you would like more information about LTCi we can help you determine if it's a good choice for you. Give our office a call at 816.833.6650 to schedule an appointment.
*Aid & Attendance benefit https://americanveteransaid.com/landing/lp_2/veterans_2_msn.html?msclkid=ab596f935b871da1163f350d996f83a8