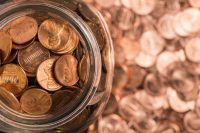 In the fourth chapter of Saint Peter's first letter, he urges believers to concentrate on loving each other properly because love covers a multitude of sins. God is still working on me in that regard and I am thankful about that. But in the financial world, there is a principle I would suggest covers a multitude of financial sins.
It is saving and investing something week in, week out, year after year. Sounds too simple. That may be why so many in our society do not practice it. I have seen it in action in so many examples that to me, it is the least common denominator of financial success.
I have known professionals making far more income than most that are living paycheck to paycheck. But I never cease to be amazed at those who make far less, but who have far more money to show for it than most after decades of a career. I have mentioned before that my own parents were great examples of this.
You, gentle readers of this Column, are probably not in the group of non-savers, but I would guess you certainly know some children or grandchildren modeling the just-getting-by crowd. It is just a crime that so many in our country who have tens of thousands of dollars of annual income, either solely or together with a spouse, do not take advantage of what has been called the 8th wonder of the world!
This inability is a big part of what has turned the owners of QT and other gas and convenience stores into billionaires. I have heard stories of homeless people interviewing with Hillcrest Transitional Housing who have decided they would rather remain homeless than to give up their cigarettes and soft drinks on the way to work!
Ben Franklin began his teenage years as an indentured servant. He learned firsthand his observation that a penny saved is a penny earned. Even though no one but older people will actually still pick up a penny on the ground, apply the same attitude towards a five dollar bill. Every one of them makes a difference.
If you save a fiver every day, especially until you have at least $1,000 in an emergency fund, you will be well on your way. In a year, you have saved at least $1,800, $150 per month. If you do and invest it from year 2 through 20, earning only 8 percent, you will have $79,857 plus your emergency fund of $1,800.
Moreover, while you are beginning this practice, it will grow on you. If I were a betting person I would wager that no one would do this without increasing his or her amount of savings.     The easiest way to do this is to take advantage of your employer's 401k or other matching provision in a retirement plan. We are about to enroll an employee group in a plan like this in which the employer matches dollar for dollar up to 3 percent of income. There are only a half dozen, about half of them, even contributing anything from their payroll deductions.
What I tell folks in this situation is this: We think we do a very good job of investing for our clients, but we have no investments that will produce a 100 percent gain as soon as you make it! A person earning only $30,000 per year can invest $17.44 a week, get the match of $17.44 from the company, and have $1,800 at the end of a year.
This is not rocket science. It is simply a law of nature and mathematics. Do not be Too Soon Old and Too Late Smart. Help yourself. You will be old before you know what hit you. Do yourself and your family a big favor. Change your future for the better!
(Past performance is no guarantee of future results. Advice is meant to be general in nature.)