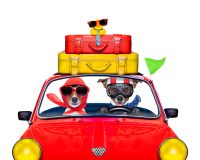 In case you haven't noticed, this will be one of the coolest Augusts in my lifetime for Greater Kansas City. It is supposed to be Dog Days of August, which for some reason means unbearably hot. The stock market should be falling more, but it seemingly will not for now.
I want to return to discuss the automotive industry as a part of your personal financial life. Or perhaps more for your children and grandchildren since youngsters are not as likely to be dying to read my column.
A couple of weeks ago, I suggested that manufacturers were probably pulling future sales of new vehicles into the present as much as possible by continuing to offer sales rebates and especially very low lease rates to move them. And by the looks of inventories, car dealers expect perfect selling conditions will continue for a long time. Jim Grant of Grant's Interest Rate Observer, ever the realist at the table, foresees lower demand for new autos and a significant drop in used vehicle prices as zillions of leases reach their end points.
In as few words as possible (for me), I will try to demonstrate why a good used vehicle may be the best bet for you (or your descendants) who have too little money left at the end of most months. Let's suppose that you want a Honda Civic. From the internet search, it appears that right now, you have to settle for a new 2017 and the quoted prices are clustered around $27, 475 for the Touring (non-Sport) Model. We will compare that with 2014 examples of the same Model if I can figure it out. I am not a Honda person myself.
I have always heard Civic owners brag about their reliability so I would think that 2014's would have lost about $3,000 per year of value. I am surprised to find a Certified Pre-owned 2016 Honda Civic LX Sedan in white with less than 10,000 miles offered for $17,875 near the KC airport. The same dealership has a 2014 in red with almost 30,000 miles at exactly the same price, also Certified to be Used. What am I to think about relative Honda values from this? By the way, there are apparently no Touring models in the earlier years, but the LX seems to be a decent bet.
Most of the 2014 LX Sedans in the area are priced between $12,000 and $15,000 and have fewer than 40,000 miles. So let's compare the one at Hendrick Cadillac with 28,465 miles for $13,671. This is $13,804 less than that new one. So, our gross savings starts there and to that we add half of the sales tax saved and, in Missouri at least, we also pay less in December of 2018 when the first personal property tax payment on it is due.
I assume you have more credit than you deserve and you can finance the entire 2017 price at .9 percent over ten years. Just kidding! I am sure you can get 72 months though. Your payment is only $392.14 per month. If you buy the 2014 and you can only finance for 48 months and have to pay 1.9 percent interest, your payment is $296.00 or $96.14 per month of savings. You will save $4,615 over the 48 months which should be enough for any major repairs that you would have. (You do have your emergency fund of at least $1,000, don't you?) That means, for years five and six, you have no car payment.
But what about the trade-in value difference? After 72 months, the two autos currently offered at only $9,997 tops even by the dealers, so your value would be at least a thousand less. If you save a hundred a month into your automotive savings fund for 48 months, you will progressively be able to finance even less when you need the next vehicle. This is a secure path to being able to invest more at a younger age and grow rich the old fashioned way.
by Ron Finke
(Past performance is no guarantee of future results. Advice is intended to be general in nature.)