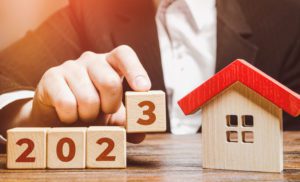 Driving through my neighborhood yesterday I saw something I haven't seen in a while, a home with a for sale sign in the yard. The housing market has been so red hot for so long, that signs don't even have a chance to hit the ground before the home owner has multiple offers over asking price.
I'm afraid that time may be quickly coming to an end. August housing numbers will be released this afternoon, they are expected to continue the downward trend that saw home sales fall for the 6th straight month in July. Last month's numbers saw a 6% drop from June and an over 20% drop from a year ago according to the National Association of Realtors.
There are plenty of factors contributing to this sinking market, rising interest rates are arguably the most impactful. With mortgage rates hovering around 6%, they are approximately double what they were a year ago. That means a 250k home you could buy for around $1,000 a month then, will now have a monthly payment of around $1,500.
With more rate hikes expected soon, and continued increases in the price of food, clothing and other necessities, the path to home ownership may be much rockier in the coming years than it has been over the past few decades.
While Goldman Sacs is predicting a 22% decline in new home sales between now and the end of the year, this slowdown may not result in a drop in overall prices. Goldman predicts that a combination of continued inflation, paired with the unaffordability of mortgages will result in a stagnant housing market for 2023 as people are simply unable to buy our sell their homes.
This decreased demand of homes to buy, will naturally result in an increased demand in homes to rent. If the total supply of homes for rent does not increase, rent prices will likely go up in 2023. Given renters in the US are already on average paying over 30% of their annual income on rent, according to a recent Harvard study, further increases will only add to the financial difficulties many Americans are already struggling with.
With the average cost per month for rent at a record $2,500 per month, according to a national rental report done by HouseCanary.com, I believe we are likely to see a continued increase in social unrest in 2023 as basic necessities take a larger and larger share of people's monthly income.
As a result, many advocacy groups such as KC Tenants here in Jackson County, will get louder in their call for local rent controls or federal subsidies to offset these difficult challenges. However, these kinds of government solutions are likely to only exacerbate these problems that were originally brought about by too much interference in the free market to begin with.
As much as I hate to say it, I believe the only long-term solution to the housing crisis we may soon face is to let the short-term suffering come. We are in desperate need of a return to equilibrium economically. Because we have artificially propped things up for so long, it may be time to allow the pendulum to complete its swing in the other direction. The heavy hand of central planners have failed. It won't be easy, and many will likely suffer, but it is time we let the invisible hand of the market take back control.