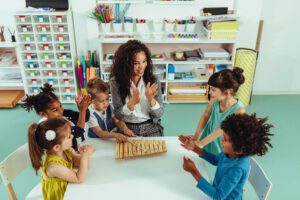 Today American parents spend roughly a quarter of their household income on childcare according to a recently released report by Care.com. Unfortunately, those costs are expected to rise soon as the funding of a pandemic-era federal childcare program has recently expired. https://www.care.com/
This program, which was part of the American Rescue Plan signed by President Biden in 2021 sent a cash infusion of 24 billion to states in order to help subsidize childcare providers all across the US. Data from the U.S. Department of Health and Human Services states that more than 220,000 childcare programs and approximately 9.6 million children have benefited from it since 2021. https://www.usatoday.com/story/money/2023/09/01/federal-child-care-assistance-declining/70641659007/
With these funds no longer available, non-partisan thinktank The Century Foundation projects that approximately 3.2 million children could be impacted as thousands of childcare facilities are forced to close locations, or significantly increase the rates they charge to remain in business. https://tcf.org/content/report/child-care-cliff/
As you might expect there has been a push to make this federal funding permanent. Particularly from women's groups arguing working mothers will be disproportionally impacted by its termination.  However, as Republicans and Democrats in Washington continue to battle over the budget little progress has been made to reinstitute the program.
As a parent of young children, this issue is one that hits close to home. While I am lucky to have willing grandparents who are able to watch our kids on a semi-regular basis, I myself have experienced the high price of quality childcare especially before the kids were in school.
There is no more difficult job on this planet than being a single parent of young children. Aside from the emotionally draining aspects of the job, the financial challenge of providing for them can often seem impossible.
Perhaps this is why even in times of record low unemployment nearly 1 in 5 single mothers have remained jobless for at least 12 months straight according to recent census data. After all, when according to the same report, the annual cost of childcare for just once child is between 30% and 40% of the median income for single mothers, it often simply doesn't make financial sense to go to work.
For that reason, I believe investing in some form of universal childcare is the morally and economically right thing to do. Not only because I believe we have a duty to insure every child receives adequate care, but also because I believe our society is made better when we make going to work possible for every American. A system in which a person is financially better off not working creates a culture that will rot from the inside.
Only time will tell if Washington takes action to help working parents continue to be able to work. In the meantime, I recommend you leave some extra room in your future budgets for childcare. You just might need it.
(Past performance is no guarantee of future results. The advice is general in nature and not intended for specific situations)