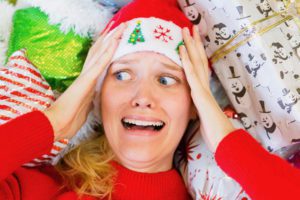 While it will be several weeks before we have a clear picture on total retail sales this holiday season, we do know that it started very poorly with November sales numbers, typically the highest month of the entire year, actually dropping .6% when compared to October.
Many on Wall Street have interpreted this reduction in spending as a sure sign that inflation and economic fears are leading us into the next recession. I believe however, cultural changes may also be a contributing factor in people choosing to buy less this holiday season. That is certainly the case for why I chose to buy less this year.
Christmas represents different things to different people. For me it has always been a time of joy and excitement, but also a time of great stress. Much like Clark Griswold I tend to place very high expectations for the whole holiday season, and then feel the pressure of doing everything I can to make sure they are met. 
I have found that as I get older, many of the things I have made priorities during the Christmas season actually detract from my enjoyment of the holidays rather than add to it. That's why this year I made the decision to greatly reduce, what is for me, the biggest source of my holiday stress, buying presents. More specifically, trying to find the perfect gift for people that likely already have everything they really need.  
I know I'm not the only one who finds gift buying to be the most stressful part of the holiday season. A study I recently saw by Suntrust said 7 in 10 people would choose to eliminate Christmas gift exchanges with family and friends if they could.  
After a discussion about this with my wife, we agreed to forego giving useless trinkets to one another this year. Not only that, we also decided to do the same for parents' siblings, friends, neighbors and co-workers too. We decided instead to make a concerted effort in the coming year to spend more time with them in meaningful ways. 
This isn't to say all the stress of Christmas shopping was eliminated. Part of what brings me the most joy in life is watching my kid's eyes light up as they find the thing they wanted most, waiting under the tree for them on Christmas morning. That unfortunately takes some time and energy. But with online shopping and a clear understanding of what our kids want, and what they will actually use once received, that can be accomplished relatively painlessly. 
I hope all of this talk against gift giving doesn't make me sound like a Scrooge. Nothing could be farther from the truth. I love Christmas and I love giving to others, but I hate how our society has turned this wonderful tradition into something unpleasant and unrewarding.  
If you also found this past shopping season to be an unpleasant one, try doing what I did next year. Let everyone know ahead of time so there is no fear of letting people down. I think you'll be surprised how relieved many of the folks are that they don't feel required to buy you something either. Ask them to use whatever money they saved to give to those truly struggling during that time and you do the same. After all, isn't that what Christmas should really be all about anyway?