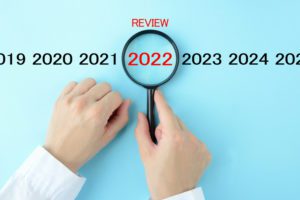 Would you agree that most investors are glad to see 2022 in the rearview mirror? Even when one obtains better results than the market in a downtrend, the general feeling is still painful. The drop represents real dollars lost from accounts of real people, even if only for a year or two.
First, let's look at the market indexes and their performance. Combining those of stocks, bonds and bitcoin, the year looks like this:
            Dow Jones 30                           -8.78%
            iShares Aggregate Bond       -14.98%
            S&P 500                                    -19.44%
            S&P 100                                      -22.12%
            Nasdaq 100                              -32.97%
            Nasdaq Composite                -33.10%
            NYSE Bitcoin                             -65.48%
These are awful results, numbers not seen in a calendar year since 2008. But the year also offers clear proof that the market clearly consists of individual positions. How so?
Of the S&P 500, the top 100 company stocks in 2022 rose in value by between positive 7.4 percent and an amazing 117 percent for Occidental Petroleum (OXY). OXY made headlines as Warren Buffett (through Berkshire Hathaway) purchased over 20 percent of its common stock this year. The entire energy sector rose in value by 46 percent, a far cry from all the losses.
But the worst 100 stocks of the S&P 500 suffered losses ranging from 33 percent to greater than 66 percent. Since 2009, it has been easier to ride the index wave upward than to spend time picking industries, much less individual winning stocks. Only time will tell how long stock picking may be rewarded over buying a broad market index.
This year is likely to continue greater gains for Value style stocks rather than Growth style. When thinking about value stocks, think about hitting garage sales for stock picks. You are always looking for bargains.
In comparison, growth companies—think Technology–have been knocked down this year, but many are still not cheaply priced. Examine two primary measures of a stock's worth, Price to Earnings (PE) and Price to Sales (PS).
Example: Amazon (AMZN) stock was flying high during the lockdown when consumers had nothing else to do and no place to go. Its price dropped over 49 percent in 2022. Is it time to buy? Consider currently you would receive only one measly dollar of profit for $100 worth of stock price. PE = 101.35. PS = 2.29. And profit has dropped by over half in the past year.
In contrast, OXY provides you with a dollar of profit for every $4.77 worth of stock price. PE = 4.77 and PS = 1.56. Its sales and profits are still rising.
Another growth giant, Tesla (TSLA), has felt the pain of losing 65 percent of its market value this year, but its PE is still 73 and its PS is 11 times revenue. But at least Tesla is still growing in sales and profits, at least for now. By the way, Elon Musk set a record for the greatest billionaire's loss of net worth in a single year. But I would not count him out.
There has been no Santa Claus rally this year. If Mr. Market does not see a gain by the end of January, another period of months of tough market sledding will be probable. But at least we can now receive over 4 percent from short term US Treasury Bills. Stay tuned because there is never a dull moment!
(Past performance is no guarantee of future results. The advice is general in nature and not intended for specific situations)