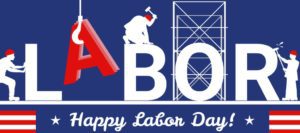 Now that Labor Day has passed, let us not forget about workers and the challenges they face.
I don't know about you, but Labor Day has become one of my absolute favorite holidays. Being the husband of an elementary teacher, and having two young kids, the back-to-school season can really be a stressful time for us. In mid-August we all have to transition over to new schedules and responsibilities that have taken a 2-to-3-month hiatus for the summer. Then, about the time we are ready to crack under the pressure of this new normal, Labor Day comes with an extended weekend and a reprieve from the daily grind we are still not quite used to.
Unlike other holidays such as Memorial Day or July 4th which often lose their true meaning when used as a day to simply escape work and responsibilities, when we celebrate Labor Day in this manner, we are actually honoring the original intent of the holiday. It was created to recognize and honor the American worker and their many achievements through a day of rest and leisure.
Sadly today, too many of the very people we sought to honor on Labor Day are required to come in and work. According to a study by the Bloomberg Industry Group, Larger businesses with at least 1,000 employees are most likely to require their workers clock in on the holiday. In fact, the research showed that 80% of larger businesses require at least some of their workers come in, versus only 29% of small businesses. https://www.businessnewsdaily.com/8354-working-labor-day.html
For many who may not know it was large businesses and their treatment of employees here in the Midwest that led to the holiday's creation over 125 years ago. In 1886 a violent altercation in Chicago between workers and police known as the Haymaker Riot, helped call national attention to the plight of the average worker. Eight years later after yet another violent clash between Chicago Railroad workers and federal troops President Grover Cleveland signed a bill making Labor Day a national holiday in 1894.
This small concession by no means represented an end to the tense relationship between workers and business owners. In fact, things only got worse in the following decades as workers continued to fight for better conditions and higher pay.
After WWII, the growth of America's prosperity did much to push the struggles of the working man to the backburner of American politics. However, I believe the growing gap between the rich and the poor is potentially leading us back to a similar place we found ourselves in a century ago.
While Covid itself may not have been the primary cause of the middle class shrinking, it certainly shined a bright light on the challenges too many Americans face today. According to a recent study by Oxfam the richest 1% of people have accumulated nearly two-thirds of all new wealth created since 2020. https://www.oxfam.org/en/research/survival-richest
During that same time, the rise of inflation has devastated our lower and middle class workers. Nearly 75% of Americans report that they are falling behind financially, according to a late 2022 study by Primerica. https://www.primerica.com/public/Fact_Sheet_Primerica_Financial_Security_Monitor_Q2_2022.pdf
With so many struggling, and a presidential election in full swing, I believe now is the time for significant changes to address wealth inequality in America. This may shock many of you, but I think we need to consider raising taxes for ultra-high-net worth individuals, while at the same time reducing the entitlements they receive. I also believe raising the estate tax significantly after a wealthy person's death can help to reshuffle the deck and give everyone a better chance at living the American dream.
We are a blessed nation and despite our continued difficulties, the struggles we as workers face are nothing compared to those of the past. As much as I do think public policy can play a role in improving the lives of American workers, nothing can improve your own life more than your own actions.  So, as you continue through this shortened work week, I hope you will do all that you can to make the company you work for successful. Above all else that is how you will help yourself and your family become successful as well.
(Past performance is no guarantee of future results. The advice is general in nature and not intended for specific situations)