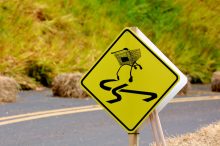 This past week when Toys R Us announced the immediate liquidation of all of its stores nationwide it marked the end of an era for me. Much like other iconic brands such as Radio Shack or Sears, Toys R Us was simply not able to adapt to a changing consumer culture and new technological landscape.
As many of you who regularly read my column know, I am the father of two young boys. I myself had fond memories of my own childhood going to Toys R us with my mother and grandmother. Every Friday night we would go, and I would wander down the seemingly endless number of aisles as I re-examined items already on my Christmas wish list, while at the same time, discovering new ones to add to it.
Toys R Us was not simply a store where items were purchased; for me it was a wonderland where dreams came true.
As I became an adult, I looked forward to the day when I would be able to share this same magic I felt with my kids. However, the first time I took my son to Toys R Us I quickly learned that something was different. Something was…..missing. Yes, they still had aisle after aisle filled with toys, but it wasn't the same. Missing were the dozens of excited children eying lustfully their chosen object of desire. Missing was the atmosphere that told you this was a fun place, a safe place, a place where "a kid can be a kid".
Instead, it felt like a dirty warehouse with shelves filled to the ceiling with unwanted merchandise. The sound of children's laughter was replaced with the sound of the broken wheel on my cart as I struggled to push it forward, and the sound of employees complaining about their jobs. My son and I left the store and honestly never went back. For convenience it was simply easier to pick up toys online, or at my local Target or Wal-Mart when doing other shopping.
At the end of the day, I think that's what killed Toys R Us. It, no longer, was a destination, or an experience. It just became another store.
With all of the talk about what the future holds for brick-and-mortar retailers, I think the story of Toys R Us should serve as a lesson of what not to do. Toys R Us did very little to differentiate itself in a crowded marketplace. Toys R Us needed to become half mega-mart, half amusement park. Had they made their retail stores true destination spots where you could not only buy the latest game or toy, but actually play with it right there in the store, their doors might still be open.
I believe other brick-and-mortar retailers must be looking at how to adapt to the changing retail landscape or they will soon be closing their doors as well. Ironically what I am proposing as a solution isn't anything new. In fact it's something very old. In the 1950s showrooms were commonplace, they were a place where the consumer could touch see or try out a particular product and then if purchased the item was shipped to their home.
This greatly reduced the cost of the brick-and-mortar location and allowed the few employees needed to be experts on the products being sold. In this business model, the customer experience is almost as important as the product itself. Don't believe me? Stop by IKEA on a Saturday and see how many adults are walking down their aisles the way I once did as a child at Toys R Us.
It is this customer experience that, in my opinion, will be the last hope of brick-and-mortar retailers. They are never going to be able to compete with online retailers purely on price point, or on convenience. But what they can offer is an experience. They can make shopping fun again. The way it was for me at Toys R Us when I was 10.
(Past performance is no guarantee of future results. Advice is intended to be general in nature.)