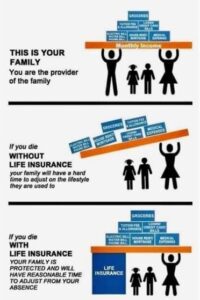 With my wife Rebecca's birthday being on Valentine's Day, the holiday holds a special significance to me. Not because if I forget about it I am in twice as much trouble as other guys, but because I truly love my wife with all of my heart, and this day gives me twice as many reasons to show it.
While buying her things like boxes of chocolates or sparkly jewelry is all well and good, the true way that I hope that I show her how much I love her is by protecting her, and by making sure she is taken care of no matter what.
I have a good friend who was abandoned by his father at a very young age. He's not sure why his father left. Perhaps he felt the pressures of parenthood to be too much, maybe he felt trapped in a life he didn't want, or possibly he just got scared and ran. Regardless of the reason, it would be very hard for that father to convince me he truly loved his son. In my simple mind, love never walks away, especially when it is most needed.
While, many of us would never consider making the choice to abandon those we love, many of us do exactly that unintentionally. Yes, I'm talking about passing away without being properly insured.
February is a good time to talk about this because it is Heart Disease Awareness Month, and February 4th was World Cancer Day. According to the CDC these two conditions have consistently been the leading causes of death in the United States for many years.  In 2020 alone just under 1.5 million Americans died from cancer and heart related illnesses. That more than quadruple how many people died of Covid that same year.
I cannot tell you how many people I have counseled whose lives were turned upside down financially by the unexpected death of a loved one.  One person I worked with in particular comes to mind. She told me the story of how she and her husband were living the American dream, he had a good paying job, she was a stay-at-home mom. One day, he had a heart attack and died. He only had a small life insurance policy through his work which barely covered the burial, and overnight her life changed. She had to enter the job market at an entry level position because of her lack of experience, and their hospital bills quickly swallowed up any savings they had. When their preexisting debts could not be paid, she was forced to sell the family home and move to an apartment. While not on purpose, the husband had abandoned his family just when they needed him most.
Would your spouse and children be taken care of if something happened to you? I know this is not an easy thing to think about. While I hope and pray nothing like this would ever happen to you and your family, it might. I believe the greatest act of love is doing something for someone else, with no possibility of personal gain. It may sound corny but having ample life insurance on yourself can be one of those acts of love.
If you have questions about how much, or what kind of insurance you need, and don't know where start reach out to me at info@stewcap.com. I would be happy to give you some free advice.