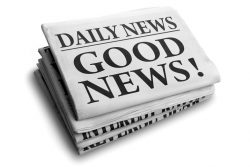 Back in olden days, DJ's might say, the super hits just keep coming! In these good new days, the good economic news just keeps coming. So I am going to provide some perspective that might help you fit this into an atmosphere of our dangerous world and media folks who are trying to sell blood in the streets or gloom and doom.
Let's start with the foundation of an economy that has finally gotten stronger and shows all signs of growing faster than it has for about 11 years now. Last year, there was already a new, strange feeling that one might no longer be thought of as a crook just because he or she owns or manages a business.
Then add to that the stimulus of personal marginal income tax rates dropping by about 3 percent for most workers. That has apparently begun to have a positive effect on consumers. Monday we learned that March Retail Sales grew by .6 percent instead of the expected .4. Yesterday March Housing Starts were reported to be up 1.9 percent across the country and total Building Permits up 2.5 percent.
Here in the Midwest, the increase in starts was over 22 percent in March, and 29.5 percent higher than a year ago. We may never lead national trends—it's just not our nature. But when the weather breaks and housing inventory for sale is low, Midwesterners will build their own. (That view may be completely wrong, but I hold it for now.)
The last piece of excellent news released yesterday? Industrial Production rose by .5 percent (.7 including revisions of recent months' data). Brightest spots include vehicles, mining, utilities, and high tech equipment. The 6 month average growth rose to 7.9 percent per year and Year over Year to 4.4 percent. These are numbers we have not been seeing for a long time. You can find more details and good news from our favorite source, www.ftportfolios.com.
But what about our strike on Syria plus the Russian, Chinese, North Korean, Isis, et al. threats to our very existence? When a war breaks out, Mr. Market usually takes notice with selling of stocks, some buying of bonds and perhaps gold. Otherwise, he keeps his eyes on the likelihood that people will continue to strive, to work, to invest, and whether revenues and profits will be better or worse 6 to 9 months from now.
It's about that simple. From looking at the history of the stock markets of various countries–ours, Britain's, Israel's—during times of political upheaval, future expectations sometimes fall. But as long as people have relative freedom to decide where to work, how to work, how to be creative, and that they still want a better life next year, they slog forward as well as they can. Right now, in the US and many other places, it is easier to make progress. Stocks will continue to reflect that hope and optimism until the climate changes.
By the way, according to my closing chart yesterday of the S&P 500 from TC2000 software by Worden Brothers, Inc., it is valued only about 5.7 percent below its all-time high of January 26th. It really is not down that much. Feel better, have some ice cream!
(Past performance is no guarantee of future results. Advice is intended to be general in nature.)