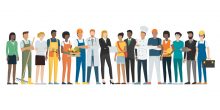 Over this past weekend, whenever I heard anyone in the media talk about Labor Day, it was consistently described as a day to celebrate the fact that you don't have to go to work. It was almost portrayed as a one-day reprieve from the grueling punishment that is your job.
To me, it's a shame how many people actually view their jobs in that light.  According to a recent Gallup poll only 38% of Americans feel satisfied at their job1. Luckily, if you're one of the remaining 62%, right now is the perfect time to change careers. Because unemployment is at record lows, you have more opportunity than ever before to find a job that brings you meaning and purpose. Think about it, the average person spends over 90,000 hours at work over their lifetime. To me, if you're going to spend this much of your life doing something, it should be something you enjoy.
That's why when people I know ask for my opinion about a pending career choice, I always ask if the job they are considering is a passion of theirs. I personally believe if it isn't, both their personal, and professional lives might suffer. Too often, I think we choose to focus on how much a job pays, what the benefits package looks like, or how much opportunity there is for advancement rather than how satisfied we will be at it. I'm not saying the work you chose to do doesn't have to provide for the needs and wants of your family,  but,  if those material things are all that is being provided by your job, you may soon find yourself exhausted and unhappy.
This is exactly what happened to me. Prior to working in finance, I went to school to teach secondary social studies. I had an absolute passion for history and government, and still do. That's why I decided to make sharing that love of those disciplines my life's work. What I quickly learned however, was that my impatience for both teenagers and bureaucratic red tape made this a position I would not enjoy long-term. I made the choice early on to stop teaching because I felt it wouldn't be fair to the students, the school, or myself for me to stay at a job that I was only doing for a paycheck.
Making that kind of life altering decision was not easy. For a couple of years I struggled to know what I was going to do with my life. I felt like my life lacked direction and purpose. If you find yourself in a similar situation, an easy first step is to take a personality test that can help you take inventory of both your skillsets and your passions to figure out what type of career might best fit your personality. www.whatcareerisrightforme.com offers a free 5-minute career aptitude test that I took while writing this article. Of the half dozen careers it recommended, several of them are things I do successfully in my current position.
I also came to realize that once I knew what I wanted to do with my life, additional training or experience might be necessary to reach those goals. So I did my best to map out a plan there as well. One of the things I did, reluctantly, was take an entry level job with a company I wanted to work for. This, while hurting my ego a little bit, allowed me to get some much needed experience in a different field and taught me some new skills that have proven to be invaluable. For more help on developing a career plan I would highly recommend the book "48 Days to the Work You Love" by Dan Miller.
I realize what I'm proposing isn't always as simple as it sounds on paper. And must also admit there are times when I'm not happy at work either. But, in general, I do believe I have found my calling here on earth, and find great meaning in helping others accomplish their goals in life. I think God wants it to be that way for all of us. In Jeremiah 29 it says that God has a plan for you, and those plans will lead to prosperity, hope and a better future. I think it is our job to find what God's purpose is for our life and to go after it.  In doing so, we might all gain a new perspective on what Labor Day actually represents.
1 https://news.gallup.com/home.aspx