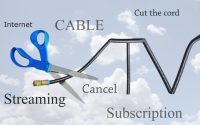 Anyone who has read my columns knows I'm all about saving money.
I was raised by parents who never paid full price for anything and valued the "deal" more than the actual item being purchased. When people ask me how by age 30 I had a "paid off" home mortgage, zero debt and significant savings, my answer is always the same, I learned to spend less than I make.
I could write a book about all of the short cuts and cost savings techniques I utilize in all aspects of my life, from food, to clothing to entertainment. But today I thought I would focus on a topic that has become all the rage with millennials, "cutting the cord".
For many people the cable bill has become the equivalent to a car payment. I have a friend that was paying nearly $300 per month on TV and internet. Finally they said enough was enough and starting looking for ways to slim down their overall cost. By educating themselves about their options and shopping around, they were able to significantly reduce their cost, while still keeping the channels and services they really used.
With the advances in technology and increased competition there is no better time to re-evaluate what you are paying for TV service. The internet has opened a whole new avenue to getting media content into your home and as a result, the consumer has never had more options for service. However, with these new options comes a new level of complexity.
I won't be able to dive deeply into the merits of each one but will instead give you an overview of the hardware you need to cut the cord along with an overview of several of the most popular services available.
First, in order to access internet based content you must have a device that can stream the media from the web to your TV. Whether it be Apple, Microsoft, Google, or Amazon, it seems like just about every tech company has their own electronic gadget that promises to put world class entertainment at your fingertips. The services each offer vary, but they all do basically the same thing – which is connect your TV to the internet in order to send content directly to your TV screen. All require high speed internet access as well as an available HDMI port on your TV so please be aware of this prior to purchasing. The prices, available services, and ease of use of these different devices can vary, but being a techie who has played with virtually all of them, my recommendation as best value are those produced by ROKU. They are easy to use, inexpensive and offer the most variety in the streaming services they make available.
After determining how the content will reach your TV, next you must determine what content you wish to pay for. Many "on demand" services like HULU, Netflix and Amazon Prime provide countless hours of programming that is available when you want it to be. These services tend to be low in cost and high in quality content. However, they do not provide access to live programming, particularly sports and news both of which are the life blood of the cable and satellite companies. For live TV service you must subscribe to an internet TV service. Sony Vue, Sling, and Youtube TV are just a few of many companies that now offer their own packages of live TV content at greatly reduced prices. Which one is right for you depends on what channels you want and which ones you don't.
Those really looking to save money might consider some of these free alternatives to cable. As antiquated as it might sound my mother and father in law still rely on an antenna for their television service. Before you roll your eyes let me say antenna TV has come a long way over the past few years. Most content is now broadcasted in HD, and an ordinary antenna provides roughly 25 channels in the KC area, many of which are not available to the average cable subscriber.
Another great source of free entertainment is the public library. They offer the latest movies and shows on disc to rent free of charge. Free online content is also widely available on the web. Most networks offer on demand access to all of their programming online and websites such as YouTube, Vimeo and Metacafe provide thousands of hours of free content.
I have found my greatest weapon in taming my budget is to pay as little as possible for the things I want and need. I hope this article has given you a glimpse into how you too can reduce your expenses and in turn improve your financial position.
(Past performance is no guarantee of future results. Advice is intended to be general in nature.)