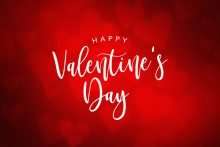 Every February 14 people across America and around the world looking to celebrate Valentine's Day will spend money on flowers, candy, jewelry, dinner and other gifts all in the name of "love".  How much money, you ask? According to The National Retail Federation, the good people of America spent approximately $19.6 billion on Valentine's Day in 2018 with projected totals for 2019 to be even higher. Matthew Shay, NRF President and CEO says that half of all adults plan to spend money on their significant others, friends or pets this February 14.
Wow! That's a lot of money and it's not even Christmas. If the total spent number hasn't made you swear off celebrating this holiday of love, let me offer you a few ideas that won't break the bank and even include Fido.
First, having anything delivered comes with a higher price so be your own delivery person. Second idea, skip going out to dinner, unless you made a reservation weeks ago, sitting in an overcrowded waiting area doesn't bode well for romance and you get to skip the 20 percent tip. Third suggestion, utilize one of two local full-service grocery stores. Two names come to mind, and I doubt that either will disappoint.
Upon entering the grocery store, stop at the floral department and pick up an all red-and-pink "Valentine" bouquet for $9.99. Next stop is the liquor department for a bottle of red wine for between $12 and $15, which is plenty for two. Meat counter is next! Choose two beautiful ribeye bone-in steaks for between $13.99 & $20.99 per pound. Then grab two baking potatoes for $2.00 and a bag of mixed greens for $3.99. Don't forget dessert! Head to the bakery for chocolate-covered strawberries for $9.99 or two mini-Bundt cakes for $5 to finish the meal.
Try to arrive home before your significant other, arrange the flowers in a vase. (If you can't find a vase use a pitcher, be creative!) It'll add to the sweetness of it all. Find some candles leftover from Christmas, and if they are red that's extra points.
Give the steaks a generous sprinkling of salt & paper and let those warm a bit while you pop the potatoes in the oven. Toss the greens in a pretty salad bowl with balsamic vinegar and olive oil or the dressing of your choice.
Set the table with nice dishes or paper plates if that's all you have and be sure to put napkins and silverware out. Ask Alexa to play Van Morrison's "There'll Be Days Like These" or maybe some Miles Davis. Remember – perfection is not what the evening is about. Your effort to create a great evening, without destroying the budget, is what counts.
When your significant other arrives enjoy the evening and throw Fido the bone! For less than $100 you've told two people they are special.