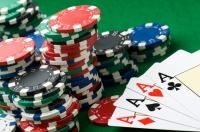 Our Missouri state government is concerned about a downtrend in its collection of tax revenues. I decided to check the reported statistics to identify the source for this worry. That did not take very long.
On May 20, 2014, Governor Nixon announced he would withhold $35.1 Million in higher and K-12 education spending because our government revenue from lottery and gaming continues to decline. The statistics are a little hard to compare on the website, www.mgc.dps.mo.gov. Most are for fiscal years beginning in July, but others are for calendar years. You can easily find them for July, the first month of fiscal 2015.
The Commission's downloadable spreadsheet shows admissions were down 3 percent year over year during July while total patron numbers declined by 2 percent. So our problem is really that 44,113 of our citizens and visitors did not find their entertainment in one of our government sponsored casinos in fiscal 2014 and continuing into 2014 compared to 2013.
Within the state, there were some winners. St. Joseph, Boonville, and Cape Girardeau casinos had notable increases. Their patrons are just more patriotic and civic minded than those in Greater Kansas City and St. Louis perhaps.
One analysis of national gambling suggests the addition of gambling to our metropolitan area in Wyandotte County is just diluting the market since Kansans no longer have to cross state line or the river to lose their money.
But on the East coast, casino operators are having a hard time of it too. Trump Entertainment Resorts Inc. announced on September 8 that it will file for bankruptcy again this week. Three casinos in Atlantic City have already closed this year. Trump Plaza will cease operations on the 16th of this month and its Taj Mahal property might be shuttered in November, according to sources of Bloomberg cited at www.bloomberg.com/news/ on Monday.
From a macroeconomic level, gambling is another form of a Ponzi scheme. Back when almost all gambling was corralled in Nevada, it looked like a much greener pasture and a gold mine for state and local governments. All our funding troubles will be over if we get a piece of that action.
As more and more providers of this home wrecking entertainment industry appear, each of the parts receive less and less in revenue and net tax. The last ones into the pool will be the biggest losers overall since the costs of infrastructure and buildings will not yet be written off. Unfortunately, it may come to a point where we can gamble on turtle races before we see the light again.
Research time and print space prevent me from a scholarly history review, but I recall that the US went through this entire cycle a century ago. The situation, primarily from corruption, got so bad that citizens rose up and demanded an end to this scourge.
We have institutionalized the corrupting influences this time in the name of government fiscal health. It irritates me to see TV advertisements with young college students thanking the citizens for our help from our gambling proceeds. How about an interview of one of our former clients about how he gambled away his IRA and then lost his house? I would like that better.
This is no way to finance the legitimate governmental needs of a conservative state like Missouri. I am not at all surprised that it is apparently leading us into trouble.
(Past performance is no guarantee of future results. Advice is intended to be general in nature.)