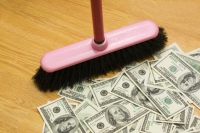 President Obama made a fine decision when he nominated Robert A. McDonald as the new Secretary of Veterans Affairs in July. McDonald, a West Point Military Academy graduate and Army Captain serving with the 82nd Airborne Division, has spent his civilian career with Procter & Gamble.
He rose quickly from entry in 1980 to Tide brand manager in 1984, General Manager of Philippines business in 1991, to Vice President of Asian Laundry and Cleaning Products in Japan in 1995. After moving to Belgium in 2001, he took on Global responsibilities for Fabric & Home Care. With continued success, he became the COO of the entire company in 2007, CEO in 2009 added the title of Chairman in 2010, and retired in 2013. You do not succeed on that kind of track without knowing how to deal with bureaucracy.
This past Sunday evening, CBS' 60 Minutes showcased McDonald's attack on the second largest agency in our government (by employment). The people with whom he meets everywhere he goes have difficulty calling him "Bob" as he requests, so most employees have taken to calling him "Secretary Bob."      Although he is totally down-to-earth in his approach, he makes it clear that he is on a mission to shake the organization to its core if necessary to make it effective in serving our veterans.
That will not be easy. The 60 Minutes piece reported there are 340,000 VA employees now. That is 22 percent more employees than the VA reported in its January 2009 Fact Sheet, but apparently the total number of veterans has declined slightly from 23.4 million at that time. Thus the number of veterans per employee has decreased from about 84 then to 64 now with no apparent improvement in services during this six years.
A few heads at the top have already been retired or put on notice, but McDonald says at least 1,000 more are on the list to be fired. Although each and every one is apparently entitled to an administrative hearing and appeal, Secretary Bob appears to be up to the task of forcing them out with all deliberate speed. What is clear is this: the VA has hired for each new program or benefit with no reduction in areas that should have been reduced or of those who are ineffective in their duties.
On the corporate side, this is a never ending battle for management. Even most large corporations err on the same side. Most of us are too nice (or perhaps too lazy) to redeploy associates properly—it is difficult. So companies tend to hire for the growing departments and hold on to everyone else. Then the company changes hands, as at Sprint, and the new head uses a meat cleaver to chop what he or she considers to be fat. Not pleasant for anyone, but absolutely required for effective governance and operation.
In wartime, our government has a history of Dollar-a-Year men in the world wars and Korean Conflict. Recently Governors Arnold Schwarzenegger of California and Mitt Romney of Massachusetts served in that capacity too. I wish Secretary Bob McDonald the very best in his passionate quest to serve our veterans well. Let's fix what has obviously been broken for decades, under both Republicans and Democrats. This is the kind of change we can all hope for.