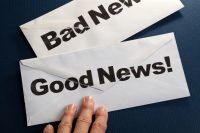 Last week I gave some reasons why I am still bullish about the stock market. Let's look at some other good news for these United States you probably won't see anywhere else.
Great changes are occurring in our global competitiveness. Boston Consulting Group reports from its survey of senior manufacturing leaders of companies with at least $1B in sales that the number of companies bringing back production jobs to the US rose from 13 to 16 percent over the past year. Those who said they would consider returning jobs rose from 20 to 24 percent.
The executives projected that over the next five years, their US percentage of total production would rise by 7 to an average of 47 percent. Half of the responders said they expect to increase their US manufacturing workforces by at least 5 percent within five years. And this is in spite of the fact it continuously takes fewer workers to produce a given amount. You can find this summary by First Trust Advisors L.P. at www.ftportfolios.com/Commentary/MarketCommentary/2014/10/27/week-of-october-27th.  High level manufacturing jobs are available now, but companies are having trouble finding workers who have studied enough STEM (Science, Technology, Engineering, and Mathematics).
Our balance of trade continues to improve from our huge increase in oil and gas production. Did you know that we are producing almost 45 quadrillion BTU's of energy per year now versus about 41 in 1979-80?
Since the first of 2007, extraction and support jobs in the energy industry have grown by 60 percent versus less than 5 percent for total private payroll employment. The oil and gas industry in 2011 amounted to $1.1 Trillion of our GDP. That would have made it the 16th largest economy in the world if it were a country, according to PricewaterhouseCoopers, Bloomberg, and FT Advisors.
You always hear about jobs leaving our shores. How about new jobs and new investment here? According to The National Association of Manufacturers, the entire unconventional oil and gas production process and the chemical industry that benefits from it will support 460,000 combined manufacturing jobs by 2020 and nearly 515,000 by 2025. (September 2013.)
Even rustbelt Ohio is a beneficiary of this trend. US Steel is investing $1.6B in plant expansion near Lake Erie and foreign company V&M Star invested $650M in a new steel mill in Youngstown to produce pipe used in energy production. These two projects involve 650 new permanent manufacturing jobs. GM is investing $1.3B in new plants in Indiana, Michigan, and Ohio.
Consider these new projects in Louisiana. Sasol, the South African fuels producer, is investing over $8B in a new ethane cracker plant in Lake Charles that will convert natural gas to liquids (ethylene). This is used in everything from antifreeze to carpet fiber. Final approval came Monday, the 27th, and construction will take until 2018 to complete. Boom, 2,000 new jobs.
On the east side of Louisiana in Geismar, Methanex, a British Columbian company, is bringing its major chemical plant from Chile in a relocation project that employs 2,500 in construction and requires 1,500 permanent workers. Seriously, parts of the existing plant are being transported here by a special ship. Methanol is used in renewable fuels, paint, sealants and plastics.
Just this year, first time foreign companies have announced over $1B in new investment in nine different states. Why? For all of our faults and challenges, we produce. With 4.5 percent of the world's population, we still produce 25.5 percent of the worlds' gross domestic product. Cheer up and tell your children and grandchildren about the glories of STEM!
(Past performance is no guarantee of future results. Advice is intended to be general in nature.)