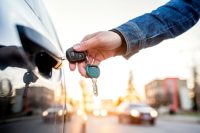 Thinking of buying a car or truck in the next 2-3 years?  Lower prices could be ahead for new and used automobiles with all the ingredients for softer prices.  Automakers reported car and light truck sales dropped at a 17.2% annual rate in Q1, the steepest decline since late 2009, right after cash for clunkers.  GM and Ford are both warning of a decline in sales.  Morgan Stanley issued a recent report detailing why they believe auto prices should depreciate by 20 to 50% over the next four years.
The single biggest factor probably playing into these warnings is the sheer number of cars that are coming off of a lease.  Zero-percent financing on vehicles over the past several years made leasing cars more attractive.  These cars are starting to flood the market in numbers we haven't seen since the early 2000's.  Morgan Stanley predicts around 4 million vehicles will be reaching the end of their lease term by 2018.  That number was only around 1.5 million in 2012.
Other factors that favor lower prices are the record high units of new car inventory, high growth of deep subprime auto loans, and a weaker rental car market from ride-sharing.  Another interesting but difficult-to-comprehend factor is a concept called peak auto theory.  This is a hypothesis gaining steam that the electrification and self-driving automobiles of the near future will lead to less cars per capita.  The cheap cost of grabbing a self-driving, fully automated, electric Uber vehicle may deter many from purchasing a car.  Futurist Salim Ismail predicts your newborn child will never drive a car.
If you are thinking of trading in or selling your car, you might want to do it sooner rather than later.  If you are looking to buy a new vehicle, waiting until December 2017 or 2018 may well bring some steep discounts.  A car is usually the worst investment most of us have to make but it might pay to keep these trends in mind when making your next automotive sale or purchase.  There are ways to maximize this process and get the most for your money.  Feel free to reach out and I'll be happy to share how I've saved thousands on the sale and purchase of my own automobiles.