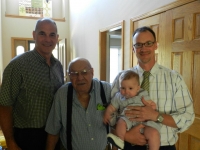 My grandfather, Louis Finke, also the father of the normal columnist for this space, passed from this earth into eternity with God on Tuesday, April 19, at 100 years old. While it seems 100 is the new 80, most I talk to are still in awe of that lifespan so here are the lessons I think he left for his 3 sons, 9 grandchildren, and 18 great grandchildren.
He believed in work. While he retired soon after I was born, I never remember him being idle while he was physically able to work. Trips to his lake house at the Ozarks found him continually working on some project, not getting in for a swim until late in the evening to cool off from the day's labors. He cared for his garden well into his 90's. His offspring might better be referred to as human doers instead of human beings.
A 1937 graduate of the University of Missouri, he understood the value of an education. He was an avid reader, always having a pile of newspapers and magazines in his living room that he hadn't quite gotten to yet. His interests ranged from Forbes to National Geographic.
A public servant by occupation, serving at the time of his retirement as a Clay County Health Inspector, he cared for others. He was honored, along with my grandmother, as a Salvation Army Volunteer of the Year for their constant donations of extra food from their garden.
A teenager during the Great Depression, he understood the importance of saving. Every dollar, everything that might have a use some day. Saving is far more important than investing and today's Americans are failing at it. He also believed in investing, in the stock market and by planting saplings all over that his offspring could enjoy.
He loved his wife of 63 years, Elinor, who preceded him in death in 2006. He loved his family and was immensely proud of his children, grandchildren and great grandchildren as was evident by his constant smile in recent years when surrounded by them.
Goodbye Grandpa. Thank you for your legacy. May we continue to make you proud.
(Greg Finke, CFP® is Vice President of Stewardship Capital, a registered investment adviser in Independence, MO.)