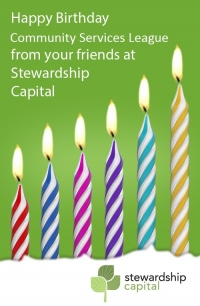 On June 16, 1916, a Bible study group of 22 women including Bess Wallace Truman established the Community Services League to help local citizens in need. They obviously knew that it is more blessed to give than to receive. Those needs are still here. But today the Community Services League (CSL) is one of the largest charitable providers of human services in our metropolitan area. Its Mission is to assist communities in reaching their potential by providing relief to people in need, assessing their situations, and providing solutions that lead to economic stability.
Notice first the balance between providing Emergency Services and longer term economic stability. The first step is to stabilize the family by providing food and clothing, school supplies, medical support including eye glasses and medicines, sometimes money (when available) for utilities or to avoid eviction or foreclosure. But the overriding goal is to determine basic reasons for the situation. How did you get in this position? Where do you want to be?
The solution is usually increasing the family income through meaningful work and better money management. Career Coaches in the Work Express program help clients sharpen their skills, write a resume', research job postings, and prepare for interviews in order to get a good job or to improve to a better one. CSL was able to place clients in 428 new employments this past year.
Housing Counseling is another major program. Homebuyer Education Classes can qualify a person for a cheaper loan. If a family is homeless, the aim is to get a safe, affordable place.
Finally, CSL is the 4th Financial Opportunity Center in Kansas City. This program teaches other ways to increase income, cut expenses, and increase net worth. Economic stability!
By now you see the holistic pattern. CSL tries every day to solve the immediate emergency problems by solving the issues that caused them, put families on a firm financial footing, and thereby strengthen our entire community. The agency has lasted 100 years by providing true lasting value to its clients and our community.
This is why we are pleased to count CSL as one of our major charitable partners. The Charity Navigator organization gives it three of four stars, four of four stars for its accountability and transparency.
How can you help? Donating money obviously, but you can volunteer in so many ways that fit you personally. Donate good clothes you are not wearing. Call in with information about jobs you learn are available. Help work in seasonal events such as back to school and Christmas distributions. Our associates loved working last December together.
If you can give larger amounts (through Missouri Tax Credit programs), you can receive your full federal tax deduction and also have 50 percent count toward your Missouri taxes. Food Pantry Credits are available for anyone paying Missouri income taxes, while Neighborhood Assistance Credits require a business-type Schedule C in your tax return.*
(Advice is general in nature and not to be relied upon for your specific situation.)
*See your tax advisor to determine applicability of tax credits to your situation.